Rehabilitation Workers Professional Network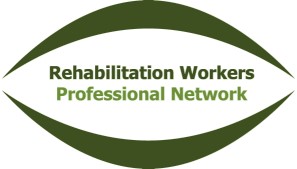 The Rehabilitation Workers Professional Network (RWPN) is the professional body for Vision Rehabilitation and Habilitation Specialists.
The RWPN holds the accredited register of professionals working in the field.
The purpose of the register is to:
protect, promote and maintain the health of people who use the services of Vision Rehabilitation Workers;
promote and maintain public confidence in the profession;
promote and maintain proper professional standards and conduct for members of the profession.
To be on the register all registrants will have to have qualified through an approved training route.
The accredited registers programme was set up by the Government to improve standards and safety for the benefit of the public.
Being on an accredited register demonstrates our commitment to high professional standards, to enhancing safety and delivering a better service.
To read more about the accreditation scheme and the RWPN visit: